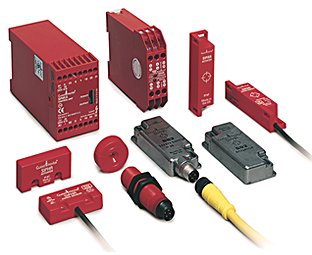 Allen-Bradley offers a range of safety products for industrial environments to prevent accidents and enhance worker safety. These products include safety relays, controllers, switches, light curtains and mats.
Safety relays are used to monitor safety devices like emergency stops and gates, providing a safe switching solution that complies with safety standards.
Safety controllers are programmable devices that monitor and control safety systems in complex applications with multiple devices.
Safety switches interrupt power to machines to prevent hazardous motion, serving as emergency stops, interlocks, or door switches.
Safety light curtains are sensors detecting objects near dangerous machinery, allowing operators to work safely in proximity.
Safety mats are pressure-sensitive mats detecting people in hazardous areas, triggering safety actions.
These products meet industry safety requirements and international standards like ISO 13849 and IEC 62061. They are engineered for durability, reliability, easy installation and maintenance.
Allen-Bradley also offers various series and modules of safety products:
Guard master Safety Relays detect and isolate faults to ensure safe machinery shutdown.
Guardshield Safety Light Curtains detect objects or people in hazardous areas.
GuardLink Safety Switches monitor doors, gates and hatches, reducing wiring.
Safety I/O modules monitor and control safety devices in different configurations.
MSR Modular Safety Relays offer flexible and expandable solutions.
Compact GuardLogix Safety Controllers provide compact safety solutions.
SmartGuard 600 Safety Controllers offer cost-effective and scalable solutions.
Allen-Bradley Guard PLC Safety Controllers provide high-level safety and security.
Kinetix 6000M Integrated Safety Servo Drives offer precise motion control.
Allen-Bradley safety products integrate with their control systems and software, ensuring comprehensive safety solutions.
These products are crucial for maintaining worker safety, preventing accidents and improving productivity in industrial environments. They comply with international safety standards, provide reliable monitoring and control and are widely used across different industries.
Allen‑Bradley PLC Systems
Controllers and Indicators