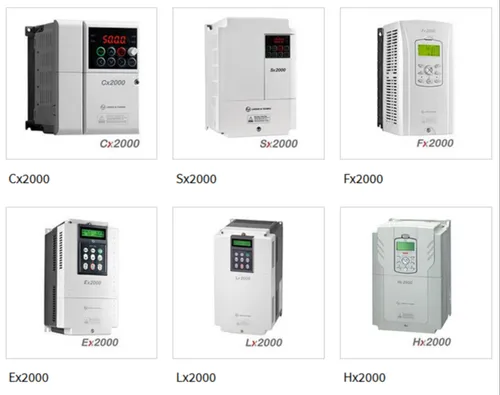 Allen-Bradley Variable Frequency Drives (VFDs) control AC motor speed by adjusting power frequency and voltage. They enhance energy efficiency and are widely used in industrial applications. 
Here are key details:
Range: Allen-Bradley offers various VFDs, including the PowerFlex series with compact, standard and specialized drives.
Features: VFDs include advanced motor control algorithms, dynamic braking and energy-saving modes.
Compatibility: Designed for AC induction and permanent magnet motors.
Communication: VFDs support Ethernet/IP or DeviceNet for integration with Allen-Bradley systems.
Protection: Built-in safeguards prevent motor and drive damage, including overcurrent, overvoltage and thermal protection.
Diagnostics: VFDs monitor performance, detect issues and reduce maintenance costs.
PowerFlex series includes:
PowerFlex 4: Basic motor control, compact and cost-effective up to 22 kW.
PowerFlex 525: High-performance control, compact up to 30 kW.
PowerFlex 755: Advanced control, modular up to 2,000 kW.
Optional modules add functionality:
I/O modules: Digital and analog capabilities.
Communication modules: Device communication (Ethernet/IP, Device Net).
Feedback modules: Improve control accuracy with motor feedback.
Safety modules: Enhanced safety features.
Series within ranges:
PowerFlex 4: Compact and cost-effective (PowerFlex 4M, PowerFlex 4).
PowerFlex 525: AC and DC drives (EtherNet/IP, safety features).
PowerFlex 755: Standard and high-power drives (up to 2,000 kW, advanced control).
Technical details include power range (0.2 kW to 3,000 kW), voltage range (120V to 690V), control modes, I/O options, communication options, overload capacity (up to 150% for 60 seconds), enclosure types, protection features, programming options and motor compatibility.
Suitable for HVAC, water/wastewater treatment, material handling, food/beverage, packaging, oil/gas and mining industries.
Advantages: Energy efficiency, improved motor performance, reduced maintenance, enhanced process control, flexibility, easy integration, advanced diagnostics.
Cable: Aluminum Armored 1 sqmm to 16 Sqmm X Core 3/ 3.5/ 4
AC Drive: Variable Frequency Drive