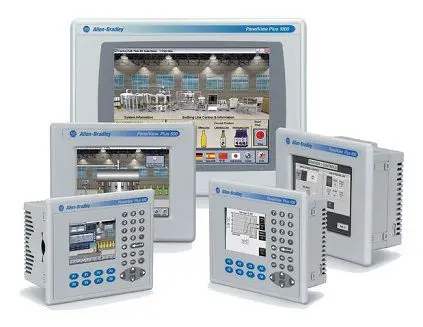 Allen-Bradley offers Human-Machine Interfaces (HMIs) to monitor and control industrial processes. The HMIs work seamlessly with Allen-Bradley PLCs for real-time data monitoring and control.
Details about Allen-Bradley HMIs:
PanelView series: Operator interface devices for industrial automation, including graphic terminals and industrial computers.
VersaView series: Industrial computers and monitors for process control, machine vision, and data acquisition.
MobileView series: Ruggedized HMIs for harsh industrial environments, with portable and wireless options.
FactoryTalk View software: Software package for monitoring and control, with tools for custom HMI screens, data logging, and alarm management.
ThinManager software: Software package for managing and delivering content to industrial HMIs, allowing remote access and application management.
Allen-Bradley HMIs offer options for monitoring and controlling industrial processes, with customization for specific applications and environments.
Ranges, modules, and series of Allen-Bradley HMIs:
PanelView series: Includes PanelView 5000, PanelView 800, and PanelView 5500 series.
VersaView series: Includes VersaView 5000 and VersaView 6300 series.
MobileView series: Includes MobileView Tethered Operator Terminals and MobileView Wireless Operator Terminals.
FactoryTalk View software: Includes FactoryTalk View SE and FactoryTalk View ME software.
ThinManager software: Includes ThinManager Server and ThinManager Ready Thin Clients.
Technical details of Allen-Bradley HMIs:
Display: High-resolution displays with screen sizes from 4 to 22 inches, typically TFT LCD with LED backlighting.
Touchscreen: Resistive or capacitive touchscreens for accurate and responsive input.
Processing power: Powerful processors based on ARM or Intel architectures, ranging from single-core to quad-core.
Memory: Ample flash memory for the operating system and user data, and RAM for running applications.
Connectivity: Ethernet, USB, Serial and CAN connectivity options for interfacing with devices and systems.
Software: Proprietary software for creating and configuring applications, with tools for graphics and screen design.
Enclosures: Rugged enclosures rated for NEMA 4 or IP65, protecting against dust, water, and contaminants.
Certification: Compliance with safety and environmental standards, such as UL, CE, and RoHS.
Power supply: Operating on 12-24 volts DC or 120-240 volts AC, depending on the model.
Allen-Bradley HMIs are suitable for various industrial applications, including manufacturing, energy, water and wastewater, food and beverage, transportation, and packaging.
Advantages of Allen-Bradley HMIs:
Ease of use: Intuitive user interface for easy monitoring and control.
Real-time data: Immediate access to equipment performance and system status.
Remote monitoring and control: Ability to monitor and control remotely.
Scalability: Suitable for applications of any size.
Integration with other systems: Seamless data exchange with Allen-Bradley control systems.
Enhanced safety: Visual and audible alarms, and safety interlocks.
Allen-Bradley HMIs improve productivity, efficiency, and safety in industrial applications.