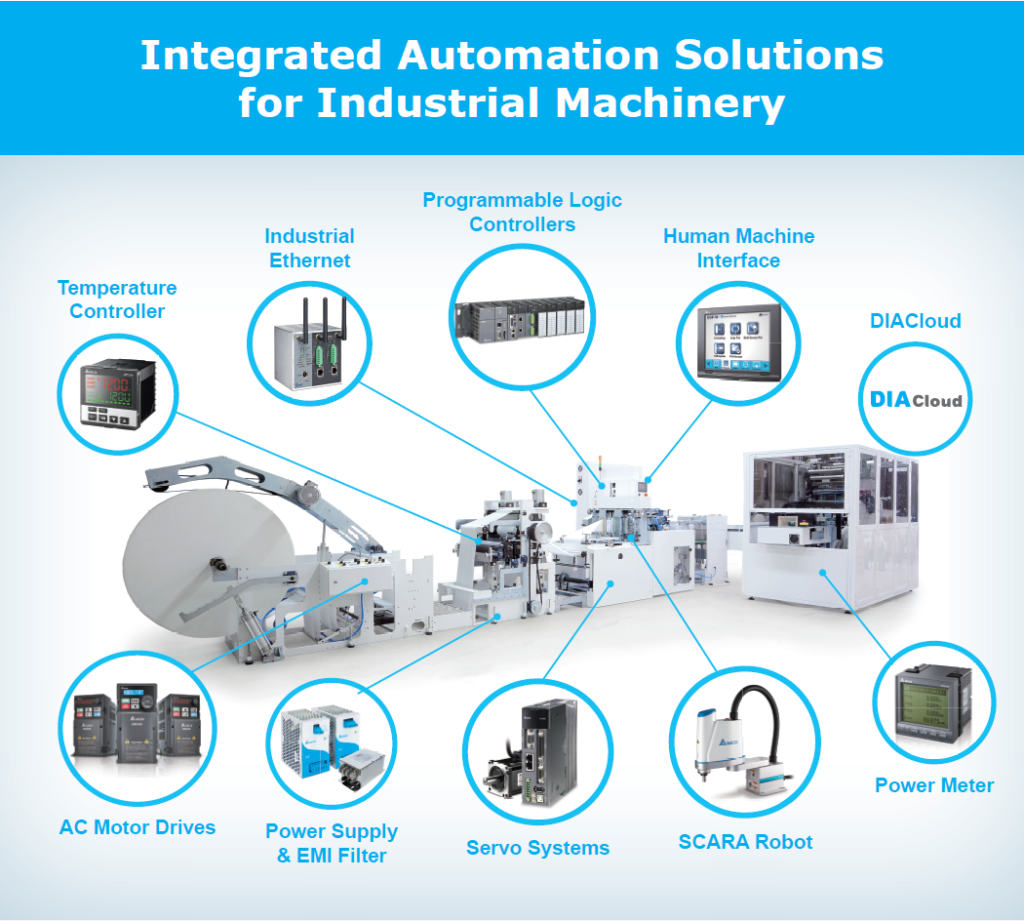 AC and DC drives are electronic devices used in engineering to control the speed, torque and direction for motors. AC drives are used with AC motors, while DC drives are used with DC motors. Both types of drives convert Input Electrical Power to the appropriate type of power needed to the motor by modifying the output voltage and frequency. The drives controls the motor speed and maintaining the desired torque/ speed. There are widely available drives applications in industrial machinery, conveyors, pumps, fans and compressors. because of it's offering precise and efficient motor control.
Variable Frequency Drive (VFD) is another name of AC drive. It controls the speed of an AC motor by adjusting the frequency and voltage for the motors application. VFDs are versatile and can be used in multiple applications ranging from small domestic appliances to large industrial machinery. The ability to adjust the frequency and voltage allows for precise control of motor speed and torque. VFDs are also energy-efficient to reducing energy consumption and cost by adjusting motor speed based on the load.
Servo Drive is an electronic device that controls the position, speed, and torque of a servo motor. It works in conjunction with a servo motor and uses feedback signals from encoders or resolvers to regulate the motor's position and speed.
Servo drives are commonly used in industrial automation, robotics and CNC machinery. It's gives precise and accurate motion control for the application requirement. It can programmed to perform a wide range of motion control tasks, making them highly versatile and valuable in various industrial applications.
VFDs and Servo Drives are both used for motor control, There are significant differences between them. VFDs are primarily used with AC induction motors, while servo drives are typically used with permanent magnet synchronous motors or brushed DC motors.
Servo Drives provide highly accurate control of position, speed and torque, while VFDs offer a more general level of control with speed control. Servo Drive has faster dynamic response times and its more suitable for high-precision applications, while VFDs are commonly used in applications where precise control not critical.
The choice between VFDs and servo drives depends on the specific requirements of the application. VFDs are ideal for applications, Where speed control is the primary requirement and Servo Drives uses in high-precision motion control applications.
Inputs and outputs for VFDs and servo drives depending on the specific model and application. Common inputs for VFDs as power supply input, start/stop input, speed reference input, direction control input and emergency stop input. Outputs include motor output, analog output, alarm output, digital outputs, and relay outputs. 
Similarly, Servo Drive has inputs such as power supply input, position reference input, velocity reference input, torque reference input, home sensor input and digital inputs. Outputs include motor output, encoder feedback output, alarm output, digital outputs and relay outputs. The specific input/output configuration depends on the manufacturer, model and application.
There are several manufacturers who produce VFDs and Servo Drives. Popular VFD manufacturers are ABB, Siemens, Schneider Electric, Danfoss, Mitsubishi Electric, Yaskawa and Delta Electronics. 
Similarly, Well-known servo drive manufacturers are Siemens, ABB, Parker Hannifin, Delta Electronics, Yaskawa, Schneider Electric and Mitsubishi Electric. The choice of manufacturer depends on application requirements, budget and Technical factors.
In conclusion, AC and DC drives are used in engineering to control electric motors, While VFDs and servo drives provide specific control capabilities for AC and DC motors, respectively. The choice between VFDs and Servo Drives depends on the application's requirements as VFDs being suitable for speed control and Servo Drives for high-precision motion control.
The inputs and outputs of these drives vary based on the model and application. There are several manufacturers that produce them and offering a range of options for different needs and technical requirements (communication interfaces). 
AC Drive: Variable Frequency Drive