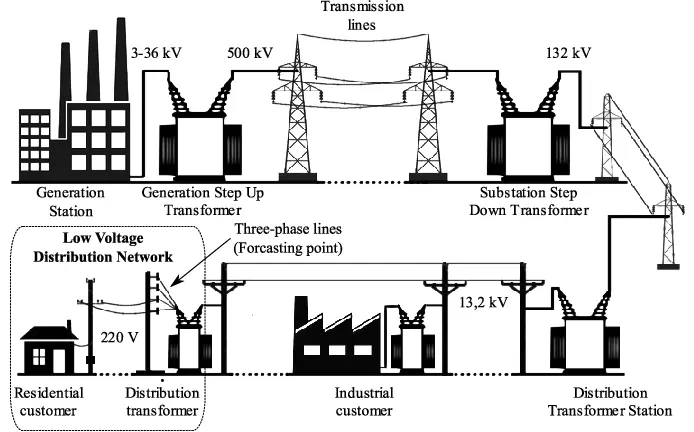 Industrial electrical distribution systems are essential for powering industrial operations and their efficiency significantly impacts the bottom line of industries such as manufacturing and construction.
Components of an industrial electrical distribution system include transformers, switchgear, cables and protective devices. These ensure safe and efficient power delivery from a source (substation or power plant) to various parts of the facility.
Key components that need consideration are transformers, switchgear, cables, protection devices and grounding systems. They play a vital role in delivering power safely and efficiently.
Factors to consider when designing a system include load calculation and analysis, voltage drop, system protection and fault current analysis. The system design should meet the specific requirements of the facility.
Load calculation determines the power needed by the facility and ensures the system can deliver it. Load analysis evaluates system behavior under different conditions.
Different types of distribution systems exist, such as radial, ring and mesh configurations, each with advantages and disadvantages. Choosing the best option depends on the facility's requirements.
Protection and control systems, including overcurrent and ground fault protection, are crucial for system safety and efficiency.
Regular maintenance and testing, such as cleaning, inspection and equipment replacement, ensure reliable and efficient system operation.
Energy efficiency is increasingly important, with measures like power factor correction, voltage optimization and energy-efficient motors contributing to savings.
Future trends include renewable energy sources, energy storage systems and smart grid technologies. Staying updated helps plan for the future.
Case studies and examples illustrate how real-world facilities design and implement electrical distribution systems to meet their unique needs.
In conclusion, well-designed and properly maintained industrial electrical distribution systems ensure reliable power delivery and reduce energy costs. Engineering professionals should stay informed about components, design considerations and maintenance tips to operate facilities efficiently and safely.
Aluminum Armored Cable 25 Sqmm to 630 Sqmm X Core 3/ 3.5/ 4
Cable: Aluminum Armored 1 sqmm to 16 Sqmm X Core 3/ 3.5/ 4