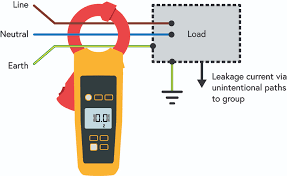 Electrical leakage is a serious safety concern. Promptly address any issues. Leakage occurs when current flows to conductive material outside the circuit, causing shock or fires. Here's a step-by-step guide:
Identify the leakage source: Get help from a licensed electrician to avoid danger.
Test the protection system: Check if the circuit breaker or ground fault circuit interrupter (GFCI) trips with current leakage.
Replace faulty components: Replace a faulty circuit breaker, GFCI, or damaged wiring.
Take preventative measures: Ground appliances, avoid damaged cords and keep devices away from water sources.
Consult a professional: If unsure or uncomfortable, seek assistance from a licensed electrician.
Technical Steps:
Check the wiring for damage or wear, like frayed wires or loose connections.
Inspect the GFCI for tripping. Reset it if necessary.
Check the circuit breaker for tripping. Reset it if needed.
Test the system using an electrical tester after turning off power. Locate and repair faulty components if leakage is detected.
Consult a licensed electrician for expert help and safety.
Protection Measures:
Ground fault circuit interrupters (GFCIs): Detect imbalances and shut off power to the affected circuit.
Circuit breakers: Automatically disconnect circuits during electrical faults.
Isolation transformers: Provide electrical isolation to prevent leakage.
Surge protectors: Divert excess voltage to protect against overload.
Regular maintenance: Inspect wiring, grounding and protection devices.
Remember, handling electrical leakage is dangerous. Consult a licensed electrician for assistance.
Allen Bradley is a Very famous brand in the industrial automation area, offering a diverse range of high-quality equipment and software for manufacturing. Allen Bradley Programmable Logic Controllers (PLCs), Human-Machine Interfaces (HMIs), Variable Frequency Drives (VFDs), Safety Products, Motion Control Products, Control Components and Industrial Network Products are available in the market. Automotive, oil and…
for More Electrical Leakage Protection