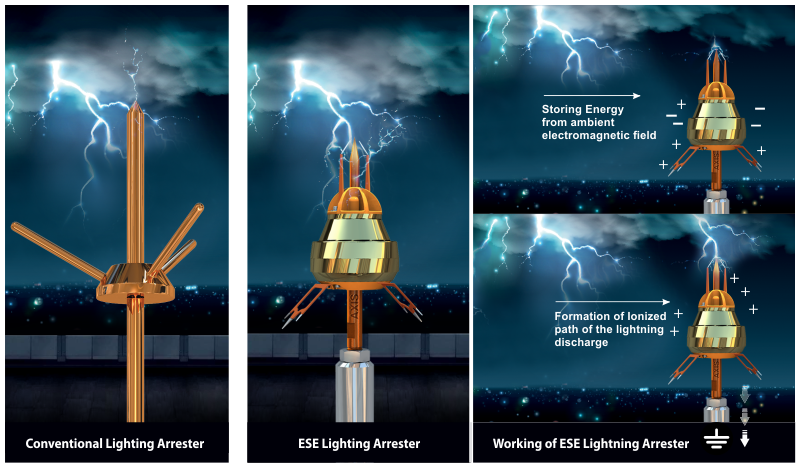 A lightning arrester, also called surge arrester or lightning diverter, safeguards electrical systems from high voltage surges caused by lightning strikes or transients.
It redirects the surge to ground, protecting equipment. They are used in power transmission, communication networks and vulnerable infrastructure.
Arresters can be made of metal oxide varistors (MOV), gas discharge tubes (GDT), or silicon avalanche diodes (SAD). Surge protectors on individual equipment should be installed for added safety.
Different types of arresters include Silicon Carbide (SiC), Metal Oxide Varistor (MOV), Gas Discharge Tube (GDT) and Hybrid Arresters.
Arresters provide a low-resistance path to ground during surges. They switch from high to low impedance, conducting the surge to ground and returning to high impedance afterward. MOV uses metal oxide material, while GDT utilizes a gas-filled glass tube.
Although arrestors offer protection, they can be overwhelmed. Surge protectors are necessary for equipment reliability and safety.
Lightning arresters safeguard equipment, ensure system reliability, improve safety and meet regulatory requirements.
Types of Lightning Arrestors:
Silicon Carbide (SiC) Arrestor Utilizes metal oxide discs to direct electrical surges to ground.
Metal Oxide Varistor (MOV) Arrestor Uses a metal oxide block to direct surges to ground.
Gas Discharge Tube (GDT) Arrestor Contains a gas-filled tube that ionizes to provide a low-resistance path to make charge ground.
Hybrid Arrestor Combines advantages of multiple types for surge protection.
Standard for the Installation of Lightning Protection Systems
PPE and Safety Accessories